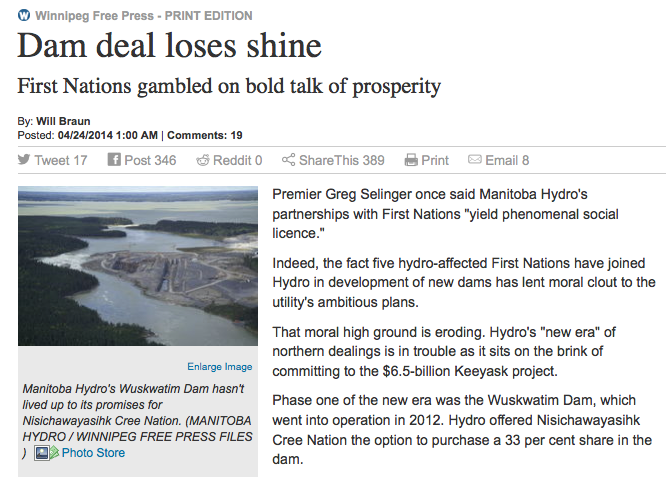 07 Jul

Question from 'a white dude': How to report on Indigenous divisions?

From time to time, Indigenous and non-Indigenous journalists approach RIIC, seeking advice about challenges faced in the field.

One such email came from Will Braun, a freelance journalist who writes for HuffPo and Winnipeg Free Press. Like many freelancers, he has a hand in many pies: he's a member of the Interchurch Council on Hydropower, which advocates for fair treatment of people and lands affected by dams, and works for Pimicikamak Cree Nation on hydro-related matters. Fair to say, he's got a point of view.

But, to the point. As a non-Indigenous journalist ('a white dude' were his precise words), Braun asked 'What do I as a white writer, and advocate/ally, do when Indigenous people share serious concerns related to public policy?' Further to that question, 'Is there a way of promoting healthy public discourse without fueling division within communities?'

Helpfully, he offered RIIC this brief blog post – and it raises important questions.

Please – share your opinion! RIIC and Mr. Braun think it's a conversation worth having.


Informed Turmoil by Will Braun

A northern Manitoba chief who took a big swing at me in the May 3 issue of the Winnipeg Free Press probably won't be pleased with my piece in last Saturday's paper either. But hopefully some of his people will find it of value. The back-and-forth serves as an interesting, high-stakes case study for people covering indigenous issues.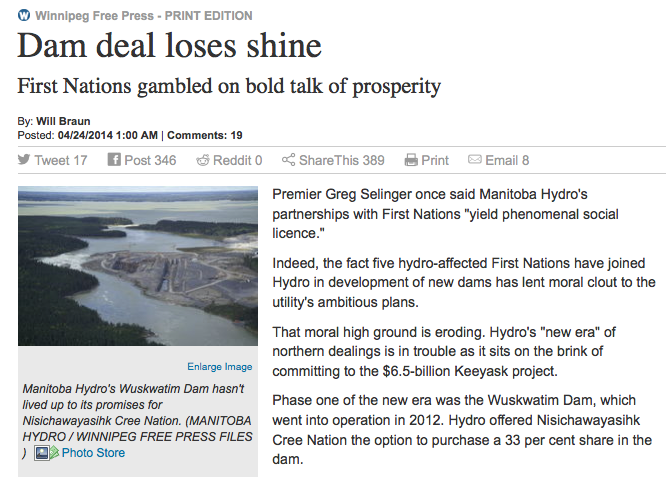 Chief Marcel Moody of the Nisichawayasihk Cree Nation (NCN) in northern Manitoba accused me of providing incorrect information and creating turmoil in his community. He accused me of having a paternalistic attitude and associated me with highly patronizing quotations from an un-named "opponent" (not me).
Then he hit with: "We find it outrageous that Braun represents the people whose residential school policies helped to destroy the fabric of our communities."
This was somewhat ironic since I have lived in, worked for and written about various indigenous peoples in Canada over the past 20 years. My bias is in favour of indigenous rights and interests.
In the piece to which he was responding, I made the case that Manitoba Hydro's much-touted partnerships with First Nations related to new dams are in serious trouble. NCN signed a partnership that allowed it to purchase a 33% stake in the $1.8-billion Wuskwatim dam with went into operation in 2012. According to Hydro's own projections, NCN's share of the dam's losses over its first 10 years are to total $134 million. This was NOT commonly known by NCN members or other Manitobans.
It is a sensitive matter as Hydro is about to take the plunge on a $6.5-billion dam predicated and similar partnerships with four other First Nations. Hydro has leaned heavily on the social licence arising from these partnerships.
I wrote the piece, and the organization I work for OK'd it, because we felt the people of the province, the people of NCN and especially the people of the four First Nations about to partner in the new dam deserve good information and analysis, and that that need has often been ill-served. Community newsletters on vital matters were critically limited and two key documents were not made public.
I also thought the general public had a right to know.
I had no intention of responding to the chief's article. I was going to let it pass. But the urgent concern of people in the community compelled me to respond. The resulting piece, which is even more direct than the first, appears in the June 28 Winnipeg Free Press.
After my initial article I obtained considerable information from Hydro officials who called me in out of concern for accurate information. That corresponded with my own concern.
My articles may well have created a degree of turmoil in the community, as the chief alleged, but the real cause of turmoil is a dam that is losing tons of money. I suppose my intent was to contribute to informed turmoil.
On two other occasions I have written pieces that will have angered indigenous leaders, though they did not respond in either of those cases.
Hydro deal raises questions
Keeyask dam on shaky political ground
Questions:
What is the best way to approach a situation in which elected leaders do not welcome coverage but a gap in basic public info is identified?
How does one balance basic journalistic duty with the danger of fueling division within a community?
From a journalistic standpoint, should First Nation governments be treated differently than other governments?
UPDATE:
Here's some opinion from the Twitter-verse – thanks Jorge, Wab, Gregg, Angela and @RedIndianGirl for sharing.
@duncanmccue @riicnews @WabKinew @mediaINDIGENA Interesting Qs. Faced similar situation during the Elsipogtog shale gas blockade.

— Jorge Barrera (@JorgeBarrera) July 8, 2014
@duncanmccue @riicnews @WabKinew @mediaINDIGENA faced pressure not to publish this: http://t.co/ZDoCrCqm36

— Jorge Barrera (@JorgeBarrera) July 8, 2014
@duncanmccue @riicnews @WabKinew @mediaINDIGENA But we went ahead b/c pple in the community deserved to know about backroom talks.

— Jorge Barrera (@JorgeBarrera) July 8, 2014
@duncanmccue @riicnews @WabKinew @mediaINDIGENA We were accused of creating divisions between the band council and demonstrators.

— Jorge Barrera (@JorgeBarrera) July 8, 2014
@duncanmccue @riicnews @WabKinew @mediaINDIGENA The lawyer for Elsi, who is Mi'kmaq and frmr Min of Justice in NB, questioned my ethics

— Jorge Barrera (@JorgeBarrera) July 8, 2014
@duncanmccue @riicnews @WabKinew @mediaINDIGENA But always err on the side of community members needing to know actions of leadership…

— Jorge Barrera (@JorgeBarrera) July 8, 2014
@JorgeBarrera @duncanmccue @riicnews @mediaINDIGENA big diff between 2 cases. Jorge is unbiased truth seeker, which is great & needed…

— Wab Kinew (@WabKinew) July 8, 2014
@JorgeBarrera @duncanmccue @riicnews @mediaINDIGENA … Braun is clearly advocating for a position which makes me skeptical…

— Wab Kinew (@WabKinew) July 8, 2014
@JorgeBarrera @duncanmccue @riicnews @mediaINDIGENA …I can see & evaluate bias, but I'm not sure everyone can. Perhaps, some community…

— Wab Kinew (@WabKinew) July 8, 2014
@JorgeBarrera @duncanmccue @mediaINDIGENA …outreach by @riicnews 2 help folks understand bias, commentary & quality of info would be good

— Wab Kinew (@WabKinew) July 8, 2014
@duncanmccue @riicnews @WabKinew @mediaINDIGENA @JorgeBarrera How about the idea that divisions happen in any democracy?

— RedIndianGirl (@RedIndianGirl) July 8, 2014
@RedIndianGirl We don't call them divisions. They're 'points of view' @duncanmccue @riicnews @WabKinew @mediaINDIGENA @JorgeBarrera

— ✳Gregg Powless© (@Nikayen_Enonhne) July 8, 2014
@RedIndianGirl @JorgeBarrera @duncanmccue @riicnews @WabKinew @mediaINDIGENA how about not jumping on someone who has a real question

— Angela Cousins (@Angelakcousins) July 8, 2014

Oh – RIIC can't help but add – on the whole 'division' thing, see https://www.riic.ca/the-guide/in-the-field/who-represents-the-aboriginal-perspective/